Lehman's, the iconic local business providing products and tools for a simpler life, has been inducted into the Smithsonian's National Postal Museum.
The virtual exhibition offers stories of the mailing industry and how companies have helped to create and enhance commerce throughout American history. Future plans include the design and construction of an on-site physical "American's Mailing Industry" exhibit at the museum in Washington, D.C. The National Postal Museum is devoted to presenting the colorful and engaging history by showcasing a collection of catalogs, stamps and letters - the largest collection in the world.
The partnership between the mailing industry and the postal system is a critical part of the economy, with a total economic value over $1 trillion and almost eight million employees.
"America's mailing industry is quite possibly the most successful government-private sector partnership in our nation's history," said Allen Kane, director of the museum. "We are excited to tell this story, as most people don't even know the industry exists."
"It's a huge honor to have two generations of my family's work validated and remembered as part of one of the Smithsonian's curated displays. We've worked hard to make a difference in the world, and it feels good to know we've left a memorable legacy!" Galen Lehman, CEO and son of company founder.
Lehman's (then called Lehman Hardware and Appliances) was started in 1955 by 25-year-old Jay Lehman. Jay had just returned from Germany, where he was the mechanic and truck driver for a team of volunteers that built refugee housing. This was a formative experience that taught him mechanical know how, and gave him a heart dedicated to serving others.
Back in the USA, Jay was looking for a job. A little hardware was for sale in Kidron, his home town of several hundred residents, and Jay borrowed money from his father to purchase it. Back in the 1950s, every small town had their own local hardware. What made his store different were his two goals:
To serve the local Amish people with non-electric tools and appliances so they could maintain their non-electric way of life

To preserve the past for future generations
After all, if there are no butter churns, then no one is churning butter.
"This was not a normal hardware store," Jay says, "We did a lot of repairing and that's what I really liked." Amish customers were looking for products every other retailer told them were no longer available. Kerosene-fueled cookstoves, propane-powered refrigerators and hand-cranked grain mills are just a few examples. Jay's heart of service made it hard for him to say no, and soon he was searching the world for the products they needed.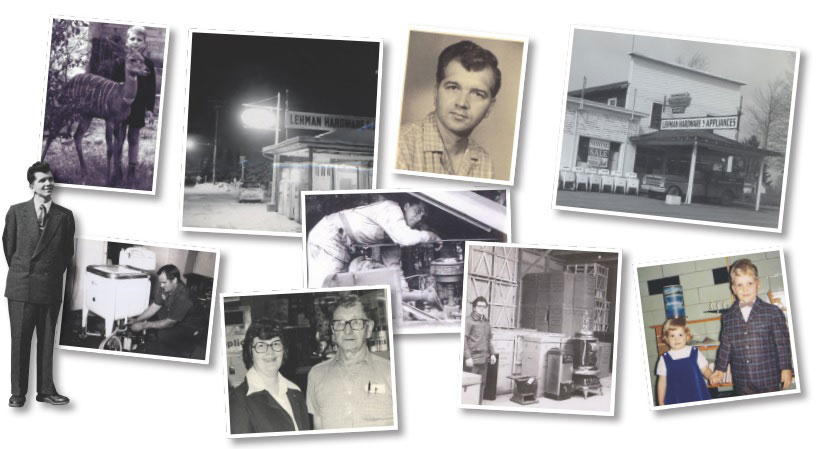 In the early years, Jay worked alone. He would open the store at 7 am, six days a week. He would close up at twilight, then load up his aging pickup truck and make deliveries until the lights in the farmhouses were turned off - then he knew it was time to go home.
Because he was willing to source, manufacturer and stock specialized products, his business grew. Soon he hired younger brother, then his father, then his sister. Today, he says, "It was a family affair to start with, and it still is, although it's a big family now (over 120 employees, and most of them aren't even related to me).".
Meanwhile, the Amish community was growing. Today, there are Amish communities in over 40 states, many of whom once lived near Lehman's. Because of this "Amish Diaspora", Lehman's was soon getting letters from all over the USA looking for products.
And, it wasn't just Amish placing orders. Folks from all walks of life began to hear about Lehman's specialized products. Jay says, "Serve the Amish well, and they'll tell their 'English' friends. Serve the old folks well, and soon their kids will shop with you, too!"
Soon, national media began to report on the quirky little hardware store in northeast Ohio's Amish Country. One of the first was Organic Gardening, which praised Lehman's for their line of applesauce and tomato sauce makers. Orders poured in from all over the country.
Customers wrote letters, asking for information on other products Lehman's carried. In the late 1970's, Lehman's produced its first mail order catalog, which was just a bundle of Xeroxed papers with hand written prices on them. After the Xerox machine broke down, Lehman's hired a small Amish printer to print a black and white catalog (because at the time the Amish disapproved of color printing).
Customers wrote letters, asking for information on other products Lehman's carried. In the late 1970's, Lehman's produced its first mail order catalog, which was just a bundle of Xeroxed papers with hand written prices on them. After the Xerox machine broke down, Lehman's hired a small Amish printer to print a black and white catalog (because at the time the Amish disapproved of color printing).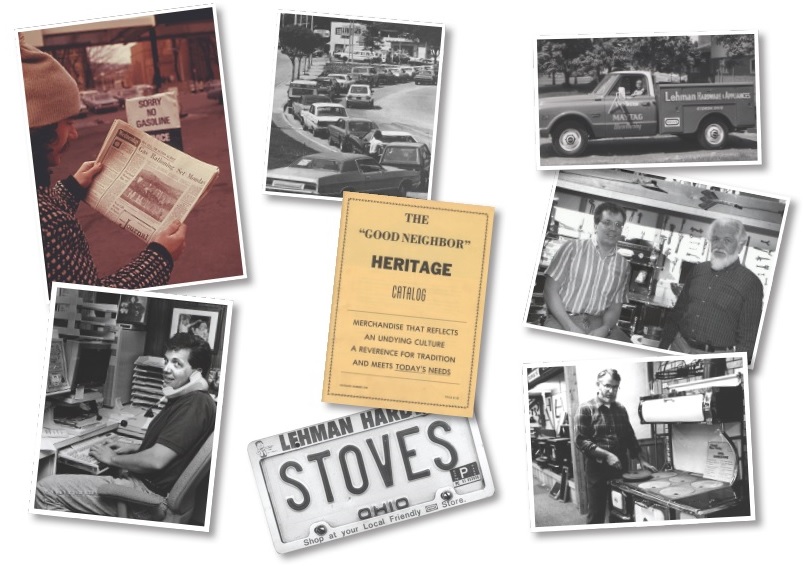 Throughout the late 20th century, Lehman's grew by mailing catalogs to existing customers and by offering the catalog for $2 or $3 in magazines like Mother Earth News. By the end of the century, they were mailing more than one million catalogs a year. Of course, they soon outgrew the tiny Amish printer and switched instead a color catalog, which they mailed all over the world. The postmaster in the tiny town of Kidron once said that Lehman's alone justified the existence of her small town post office. Mailing a catalog allowed Lehman's to showcase our products to new customers, thereby growing the company. Without the post service, Lehman's would not have grown into an international business.
Despite being the national headquarters for "low tech", Lehman's never turned its back on new technology. In fact, Lehman's was one of the first companies to sell on the internet, thanks to a customer who worked in Silicon Valley. He called Jay's son, Galen, one day in 1996 to talk about this new thing called, The Worldwide Web. Galen was highly skeptical, but agreed to give it a try. By the end of the year, Lehman's had sold more than $5,000 in product on the internet. Today, in close connection to the printed catalog, Lehman's uses digital and email marketing, e-commerce and social media to educate, entertain and provide products to customers. In short, Lehman's uses high tech to sell low tech.
Lehman's diverse product line, ("Everything you need for heat, food, light and water," they like to say) includes some unusual items. They have countless ways to harvest and store food, hand-cranked water pumps, kerosene lights and wood-fired cookstoves. The company gained national attention in the late 1990's, when the threat of Y2K, also known at the millennia bug, frightened modern consumers around the world. They were concerned their traditional way of life would end if the power grid shut down when the computer clock moved from 1999 to 2000. The company received thousands of calls, faxed, letters and visitors from across the country. Most were thrilled to find out that Lehman's was still producing time-tested, people-powered products most thought were no longer made. The company's legacy knowledge was put into use, teaching people not just what the products are, but how and when to use them. International media (from Nightly News with Tom Brokaw; National Public Radio; USA Today; The London Telegraph; The Chicago Tribune and many more) focused on Lehman's because, as the journalists searched the worlds for other companies with the same business model, they found none.
The Amish still shop at Lehman's today, however in a twist of irony the Amish also are key vendor for Lehman's. Working at home crafting hand-weaved baskets, hickory rockers and hand tools, Lehman's is still helping them to maintain their way of life, with farm, family and God as the center.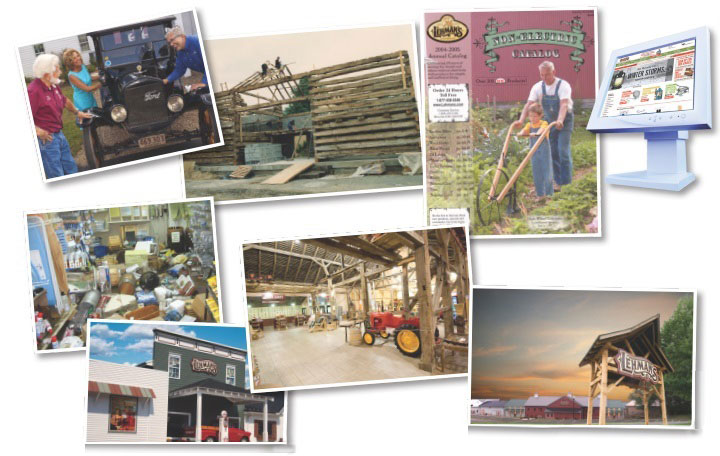 And there's a diverse group of customers as well. 21st century Preppers visit our site, wanting to stock their bug-out bags. On any given day, letters may arrive (yes, many customers still mail checks, although most now use the website) from ranchers in Utah, the owner of an island in the Bahamas or an antique restoration service in Minnesota. Urban apartment dwellers look to Lehman's for environmental supplies. Homesteaders living off the land in Alaska also turn to Lehman's for help.
Despite 60 years in business, Lehman's is still doing business the way they started. Jay's children, Galen and Glenda, now run the business. Galen says, "We live to serve."
As this family owned business plans for the future, they remain deeply committed to the concept that the past holds something worth preserving for the good of our future. Along those lines, they are purchasing manufacturers of old line products like Aladdin kerosene lamps and the cast iron Reading Apple Peeler.
The tradition of service continues today as Lehman's reaches a new generation by teaching them the old-time ways that their grandparents knew by heart. With product experts on staff, a highly trafficked blog with information on food preservation, raising livestock and the joys of making it yourself, a print catalog that drives consumers to Lehmans.com, the company artfully uses high tech to sell low tech.