YOUR HOME HEATING EXPERTS:
When you are ready to have a heated discussion, it's time to visit Lehman's. At our store in Kidron, Ohio we will talk you through the process to see if heating with wood, gas, pellets or coal is right for you. We can help you choose and install the perfect stove, fireplace or insert to keep your family warm this winter. Need parts or accessories? Give us a call at 330-857-5757 x 3600 or email homeheatingexperts@lehmans.com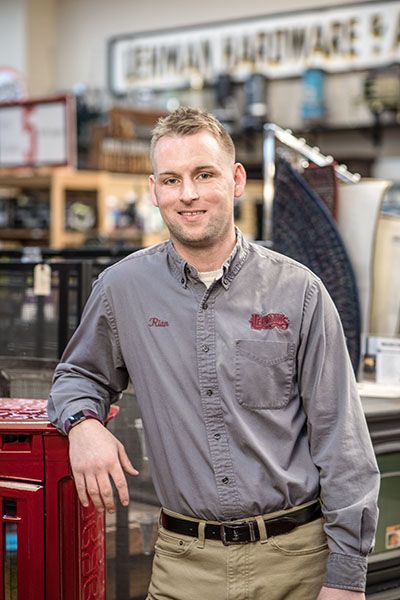 Rian Carlton
How long have you worked for Lehman's?
5 years (has gone quick!)
Favorite Lehman's Stove:
Hearthstone Montgomery fireplace
Fun Fact:
I've been to 7 different countries (rode an elephant in 2 of them!)
Best Customer Interaction (Stoves):

I had a customer who purchased a bright red stove from us and was having some trouble with it a couple months down the road and I ended up going out to their home and walking them through how to run their stove properly and gave them some recommendations. After fixing everything, we sat down and we just talked for what seemed like a couple hours. The red stove looked so beautiful in their masonry fireplace!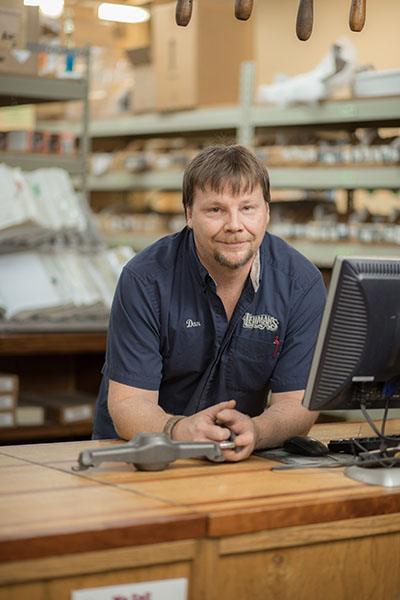 Dan Kinney
How long have you worked for Lehman's?
I have worked for Lehman's for over 6 years.
Favorite Lehman's Stove:
The Manchester by Hearthstone. It is a cast stove with soapstone fire bricks. It is a work horse; once you get it fired up it keeps putting out heat for hour's even when the fire is only down to embers.
Fun Fact:
I am ambidextrous. I can write with both my left and right hand.
Best Customer Interaction (Stoves):

I really enjoy when a customer stops back in just to let me know how much they enjoy their stove they purchased from Lehman's. To say I have just one favorite customer would be a hard thing to pin down. I try to sell a customer what I personally would like to put in my own house. It's hard to steer a customer wrong when you approach a sale that way.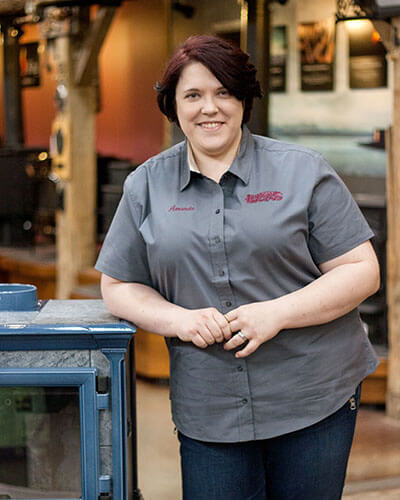 Amanda Burt
How long have you worked for Lehman's?
Almost one year, but I've been a frequent shopper since age 5.
Favorite Lehman's Stove:
Elmira Fireview. -This cook-stove is not only a gorgeous reproduction of an antique stove, but has all the "bells and whistles" one could hope for in a modern wood cook-stove.
Fun Fact:
I distinctly remember shopping at Lehman's when I was a kid during the Y2K scare. I was so excited to use the grain mill we purchased, that I ground wheat berries for almost 3 hours straight once we got it home. This was also my first distinct memory of sore muscles. I still have that grain mill from Lehman's but I did purchase an electric motor for it.
Best Customer Interaction (Stoves):

I once had a customer purchase a wood stove off of our sales floor that was still lit and burning. The only tricky thing was that he wanted to take the stove within two hours. It took some work, but we managed to get the fire out and the stove cooled down and disconnected so that he could take it home.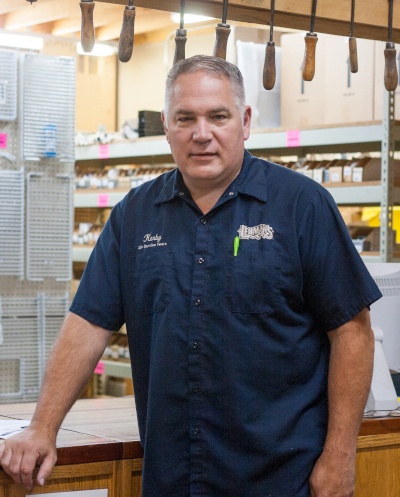 David Kerby (goes by Kerby)
How long have you worked for Lehman's?
23 years
Favorite Lehman's Stove:
Pie irons and ice cream makers! I am also a fan of the Jotul wood heating stove. The fit and finish are just about the best and of all the stoves we work on.
Fun Fact:
Fostered over 90 children and still going.
Best Customer Interaction (Stoves):

The ones when we can successfully troubleshoot a problem over the phone.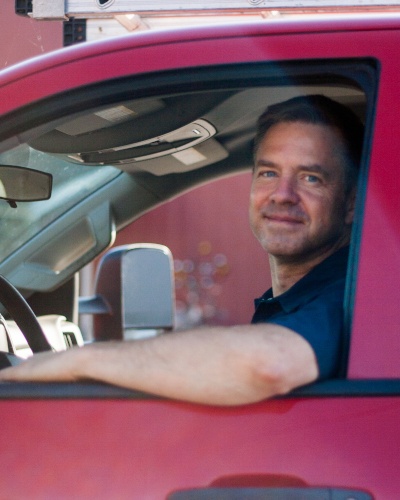 Philip White
How long have you worked for Lehman's?
6 months
Favorite Lehman's Stove:
the Quadrafire woodstove that I purchased from Lehmans back in 1998 and still use every winter to help heat my home.
Fun Fact:
I rescue honey bee colonies from the walls of buildings and try to relocate them into hives.
Best Customer Interaction (Stoves):

A husband and wife and their 3-year-old daughter had just hand-built a small cabin in the woods of south central Ohio. They had just moved in and were homesteading and living completely off the grid. I had the opportunity to visit their cabin to make some adjustments to their Pioneer Princess wood cookstove, which provided both cooking and heat for the entire cabin. It was like going back in time as I visited with them. In their pursuit of the simpler life, they had purchased a piece of woods and carved out a place for their family to live with their own hands. Their daughter spent the time playing with the chickens, dogs and horses as I visited with the parents.
I was recently certified as a National Chimney Sweep Association certified chimney sweep, a 6-day intensive training and testing held in Indianapolis Indiana. There were men and women from 23 different states attending this particular training event.